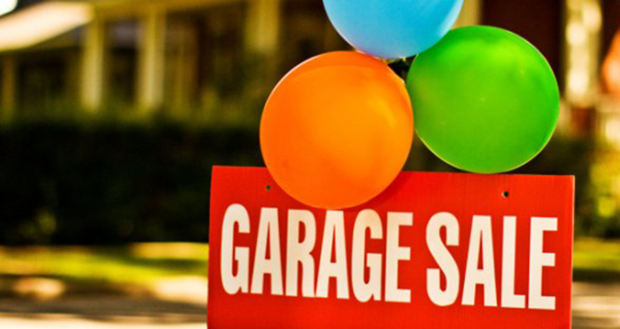 Summer is just a few weeks away and with the nice weather comes garage sale season. Many families will be cleaning out their closets, cupboards and garages to make room in their homes or perhaps to purge before moving to a new home. If you fall into one of these categories or another, here are some tips for a profitable summer garage sale. One year, I made $1000 in the first 3 hours using these ideas.
When and Where
Decide if your sale will be one or two days. Typically two day sales are on Friday and Saturday. Pick a time frame, buyers like to start early before the day is too hot. So, plan on a sale that begins no later than 8:00 AM. Buying traffic usually dies out around noon to 2:00 pm. If you are joining forces with other neighbors, family or friends, decide the best location for your sale. Things to keep in mind; who has ample available parking, who has the flattest selling area, and on hot summer days, who has the best shaded areas? This is vital and appreciated for not only the buyers, but for you the seller as well.
Promote, Promote, Promote!
The more you create a buzz about your garage sale, the better the turn out, start early too. Email friends and family, put the event on your Facebook page (you never know, they may want to join forces with you, which can only make for a bigger and better sale!). Post a flyer or note card at your local grocery store, library, recreation center, Laundromat and coffee shop. Also try some Web sites like Crigslist.org and other social media resources. Here are a few that may be good places to advertise your sale as well. http://garagesalehunter.com/  http://www.yardsalesearch.com/ http://www.weekendtreasure.com/
Pricing and Tags
In order to keep things simple on sale day, price and tag all items weeks and days ahead of time. Every dish, book, and toy needs to have a clear price on it. For best results on selling clothes, I recommend you hang as many items as you can and use tags that you can tie onto the hanger (see if you can get your dry cleaner to donate the inexpensive hangers they have. Also, if anybody in the house works for an industry that uses uniforms, they generally can obtain hangers from work). Use clothespins on hangers for shorts and pants. Separate mens and women's clothes and boys from girls. For smaller children clothes, get a few moving boxes, cut one side of the box down about 2/3 of the way. Place like items together in the box, and rubber band or use ribbon to tie outfits together. Mark the box "Todler Size 2T-4T" or similar. For more on pricing, check out this Web site: http://bit.ly/1klpZbw .
Signs, Signs, Everywhere a Sign
Once you have chosen the date and time, you will want to make signs to place at key intersections that lead to your sale location. You can of course make your own and if you do, I recommend that you use either heavy white or bright fluorescent colored poster board or foam core. Keep all signs consistent, so buyers know what signs lead to your sale. Print "Garage Sale" with an arrow for left or right turn using a thick black permanent marker. If you place a sale ad in your local neighborhood paper, often times they will have sale signs as part of an ad package. Many neighborhood HOA's have sale signs for a small purchase price as well, so check with yours.
Design to Sell
Start by making sure your selling area is clean, organized and free of excessive clutter. Creating zones helps buyers find specific items they are looking to buy. Put like items together, this creates an easy and pleasurable shopping experience for your buyers. Feel free to be creative and show some style. For example cover your dish and kitchen ware table with a nice tablecloth and fresh flowers or a house plant (be sure to mark things your not selling with a small sticker or sign that says "Not For Sale"). If you have a computer, and are so inclined, print fun signs to place around your sale that mark your departments such as Children Books, Baby Boy Clothes, Video Games, Electronics and so on. I have made it easy for buyers to know my selling policy with signs at my selling table that state all sales are final. Making signs in English and Spanish has proven helpful as well.
Setting Up and Sales Table
Be sure you have help on the morning of your sale, sometimes (especially if you advertised) you will have people waiting. Ask early arrivals to please give you time to set up. Once you begin to set up, make sure you have someone supervising the area, I have had experiences with dishonest shoppers who work together and are skilled with distracting you while you are busy setting up your displays.
Use a small table that is centrally located within your sales area. I have usually placed mine in the back center area in order to keep an eye on all the shopping zones. Use a small plasticware container or invest in an inexpensive cash box. Go to your bank the day before the sale to get change for your shoppers. One roll of each coin, a couple $10 bills, a few $5 bills and around 20 to 25 $1 bills. Place these in your cash box and never let the box leave your site or hands even. Be sure to have a calculator handy and extra pens and price tags nearby. At my selling table, I also have plastic grocery bags to wrap customers purchases up for them (save them for a few weeks prior to sale day). Make sure you or your helpers keep an eye on all areas of your sale, many people will ask questions about your items and will haggle you on price, so be prepared.
Getting Your Kids Involved
Kids Zone
All of the garage sales I have done have included a kids zone. I have let my children choose books, toys, video games and movies they have out grown. We set them up with their own table where they can display their goods. Be sure it is near where you can easily supervise all lookyloos and actual buyers . I let them keep all the money made in their zone. This keeps them occupied and excited about the day.
Homemade Snacks and Refreshments
Another way to involve your kids is to set up a refreshment table, similar to a lemonade stand. Make muffins with your kids ahead of time. Buy some orange juice, apple juice, small cups and napkins. Let your children sell breakfast to the early shoppers, both buyers and your young entrepreneurs love the experience. Put this table near your sales table so that you can help supervise the transactions.
Over the years, I have had more than a dozen garage sales. Some have been small, where I sold mainly nicknacks, old toys and old clothes, while others have been big endeavors where I sold furniture, baby items, appliances and more. The key to any of the sales I have done has been organization, good signage and a pleasurable shopping experience for the buyers. Using the tips for a profitable summer garage sale will help you clean out the clutter and make some fun money. Have a great Sale!